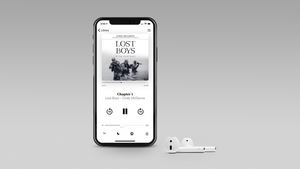 A spiritual battle rages for the lives of our young men.
Scripture warns that the enemy comes to steal, kill and destroy and that's exactly what we are seeing with our young men. Yet history is replete with seemingly helpless battles turned by determined and courageous leaders.
Cindy McGarvie's new book Lost Boys uses her military background and extensive research to illuminate the current cultural situation and offer a God-led plan of counterattack, laying out the Sword of truth in response to the rampage of:
suicide,
depression and anxiety,
porn addiction,
fatherlessness, and
the feminisation of our young men.
This book is not light reading, by any means, but it brings truth and focus to many of the issues destroying far too many promising young lives today.
It is a robust call to adventurous discipleship, and a rally call to take up our weapons of warfare and fight for our young men. Will you join us?
What you get when you purchase this version:
Audiobook version as digital download

mp3 chapter files for Android or PC device playback

m4b audiobook file for Apple devices
Download file size: 813MB
*Digital downloads will be sent to email address supplied during checkout.